I thought I'd make one last news post for 2021 to recap this year maybe, this has probably been the craziest in terms of productivity and attention. I don't expect this to get read much but I just thought it might be a nice thing :o]
I started this year as a minecraft youtuber fan and somehow ended it with my art on the site background! I'm incredibly grateful to be here on Newgrounds creating art to my heart's content (even if the art is questionable LOL).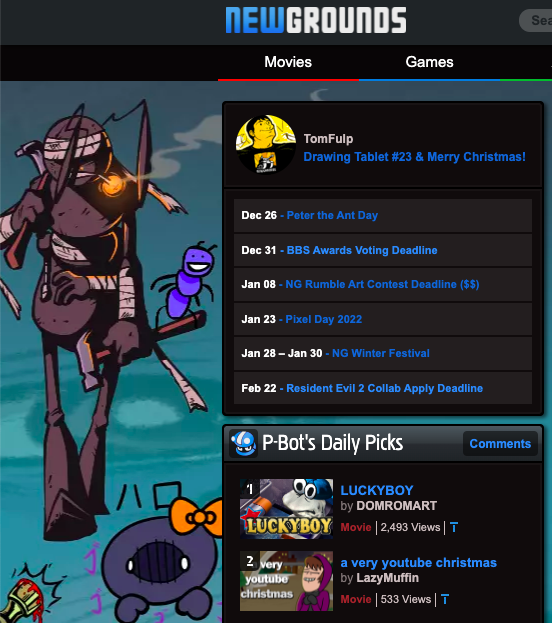 What got me interested in Newgrounds was Tankmen. I remember the hype for Week 7 when Ugh was released, I was very adamant on Week 7 being Captain despite Ninjamuffin's tweet saying it was going to be Ritz but it was on the basis that I thought that's what he would sound like, I hadn't watched Tankmen so I really didn't know. I actually thought Tankmen was a game, I think I had somehow created this game in my head that was like Worms Armageddon but with the Tankmen?
Watching the Tankmen was really refreshing. After months and months of serious lore livestreams coming from some 20-something year old's Twitch channel, here was something that didn't take itself seriously. The dry humour and simplicity of it all really dragged me in. Also I was just really tired of Minecraft Youtubers and the community, that shit's exhausting I was willing to get out of that at any cost.
Next thing you know, I'm drawing Tankmen on a daily basis. Pulling out my phone and opening up sketchbook whenever I could, right when I woke up, during lunch at school, on the bus and train home, I kept putting out as much content as possible and people seemed to really like it! Someone dubbed a Tankmen comic I did, another guy did it in Spanish! Actually, someone else also did it in Spanish.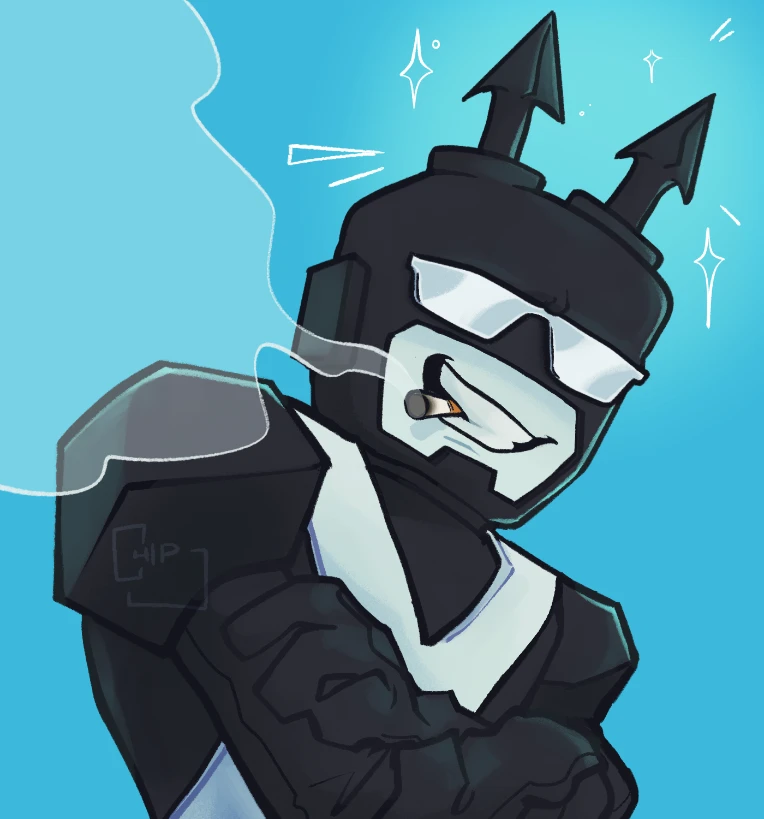 Eventually I joined Newgrounds despite being very scared of it. I remember it was the same day as my mum's birthday and one of the first Jeff twitter spaces. I'm not sure why but I remember that day very clearly.
@sukazumii was the person who sort of motivated me to join the website. He was probably the first friend I made in the community, he's cool as hell.
The first thing I posted was this GROSS GIF (that I later revamped that was also kind of yucky).
I remember waking up the next morning to see Tom Fulp had followed me. I thought that was pretty cool!
I started posting art here, slowly but surely and eventually I was scouted by @/MrSignmeout! I've been too scared to scout anyone myself but that might change next year.
A few months later and I've become friends with some pretty cool guys! Notably @lanadoodles who's kindness and support continues to push me forward, @itsreddqueen who's take-no-shit attitude gives me confidence, @SlickRamen who's endless goofiness and light-heartedness allows me to chill out and relax every once and a while, @kastozx who makes so much good Nightmare Cops fan art and is really fun to talk to and @Luis, who I want to put on this list because while he's a hilarious little shit, he's also very honest and puts things in perspective for me (even if I act like a sook about it). SO THANK YOU.
Of course, there's also @plufmot who not only let me draw an ant for him but also let me onto his podcast to talk about potatoes!
Speaking of podcasts, The Newgrounds Podcast let me make a sticker for them! It's so cool to see something I've drawn digitally in the real world, stuck onto some people's stuff. I owe all my thanks and so much more to @Xinxinx because other than this, he's also made me more confident in my art and has given me really good advice regarding my art too. Talking to him has really opened up my eyes and even though words fail me sometimes, I'm very grateful to be working with him and the podcast.
Not only that but I somehow got second place in their Podchan Art Contest and I also animated them.
Now I guess I should move to what the bulk of this year has been about for me, Nightmare Cops.
I don't know what about this game has got me wrapped around its finger but at this point I don't even know if I can stop drawing them. THE GAME ISN'T EVEN FINISHED and I've dug myself ditch so deep, I don't think I can get out.
My first drawing of the Nightmare Cops compared to my last I think shows how comfortable I've gotten with drawing these dumb little guys.
Okay but genuinely I think I gotta calm down on the Nightmare Cops art. They're so fun to draw and I love em to death but I feel so guilty drawing them before the game's even set to release.
I will say this though: a lot of my Nightmare Cops drawings taught me new things or pushed me out of my comfort zone. I even animated them once, it's short but still!
I didn't expect this year to be anything other than entering a new stage in my life but what I got was so much more than that.
I joined an active community of artists, made new friends, talked to people I looked up too, DRASTICALLY improved my art and used that art for other people's projects and ideas. It's all a bit scary I'll admit. I'm still a stupid kid, I feel under qualified for all of these things and I'll say these things a lot but I don't want to give the impression that I'm not happy for all of these things. I'm overjoyed :o] So thank you.
Here's to a good 2022! People might say that's too optimistic but I didn't really hate this year so hopefully I won't hate next year!